INFORMATION ARCHITECTURE
AN OVERVIEW
A FLASH 5 ON-LINE BRIEFING
WITH STREAMING AUDIO
This is a beta prototype and, to date, this program has been tested only on Windows and on a limited number of platforms. To run you should be sure to have at least a

56K connection

fast (600+ MH) machine

large screen -- for this beta version we recommend using

a full screen

true color

1280 x 1024 resolution.




This presentation uses streaming audio. Please turn your volume to a comfortable level.


If you wish, you can send comments to us at vyrwyn@msn.com.
NOTES: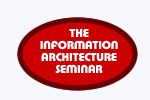 CONNECTIONS
INTEEM PRODUCTS - INTEEM SERVICES
HOW TO PREDICT THE FUTURE: HTPTF SPECIAL FEATURES - HTPTF CONTENT
HTPTF HOME - BLOG HOME - INTEEM HOME
(c) Copyright 2004-2005 inteem! Corp - all rights reserved.